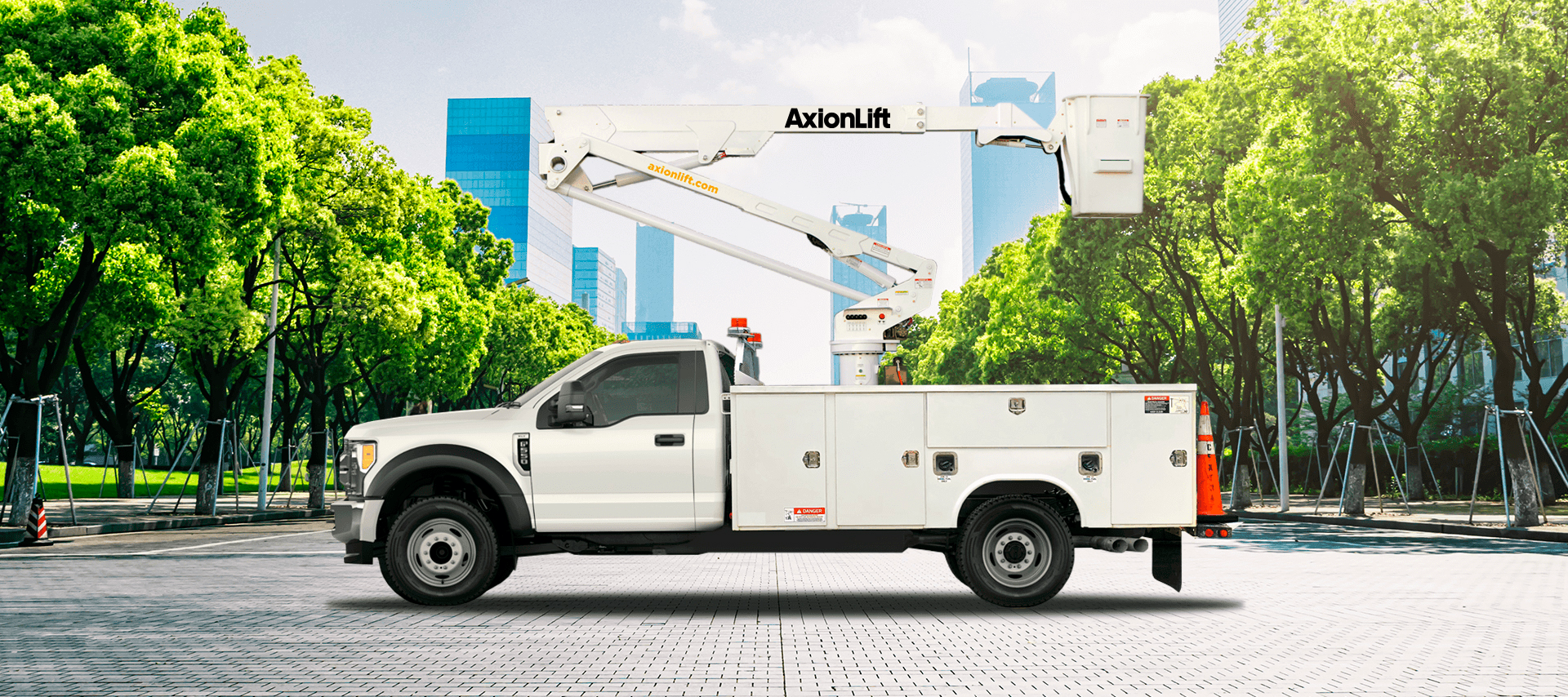 AT40
AT40
Telescopic-Articulating Aerial Lift
Working Height 45.0 Ft
AT40
AT40
Telescopic-Articulating Aerial Lift
Working Height 45.0 Ft
The AT40 is a Telescopic Articulating Aerial Lift that achieves an excellent side reach of 28.5 ft. and a working height of 45.0 ft. This Aerial Lift improves the relationship between working height and horizontal reach, thanks to a special configuration of the arms for those which prioritize the horizontal reach, but also need to exceed 44.3 ft. in height. This Aerial Lift has an End-Mounted platform with a capacity of 400 lb. , hydraulic tilt, 180º platform rotator as well as many options that will increase your safety and productivity. Undoubtedly, the AXIONLIFT AT40 is the specialist among the Telescopic Articulating models.
DOWNLOAD BROCHURE
Speed and precision to tackle work
Proportional controls for greater smoothness and precision during operation.
More tasks, less time
Increase the productivity of your AT40 adding a Joystick or a Hydraulic Tools Circuit at Platform.
Target your goals, anywhere.
The AT Aerial Lifts are specs. with Telescopic Articulating arms, which makes them versatile, leading side reach making possible achieve higher working height.
Safety First
Increase the level of safety adding a platform tilt, interlock and Electric Emergency Pump.
Emergency stop valves at the upper and lower control stations
Single End-Mounted Platform
Lower Controls with override to the platform
Device Against Accidental Operation at the Platform – Safe Control System –
Hydraulic Platform Levelling System
Rotation achieved by Gear Box + Slewing Drive
Hydraulic Oil level and thermometer
Diagnostic pressure test coupling
Self-lubricating bushings
Hydraulic hoses fully embedded inside boom
Holding Valves integrated in hydraulic cylinders
Electrical Insulation 46 kV. Cat. C
Electrical Chassis Insulation
Platform 30 x 24 x 42 in. Capacity 300 lb. / 400 lb.
Hydraulic Tool Circuit at Platform
Engine Start/Stop and Throttle
Bottom & Lips liner protectors
Platform access from the ground
Single Handle Control – Joystick –
Outrigger Boom Interlock System
Vinyl platform and insert covers
Mounting brackets & stationary set-ups